WHYY's Lifelong Learning Award Honoring Coach Dawn Staley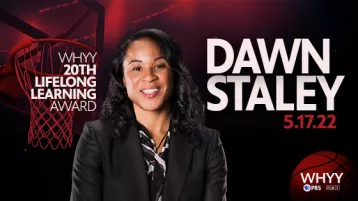 South Carolinians are invited to a special virtual event honoring USC Coach Dawn Staley's illustrious career and contributions to sports and activism. The event is hosted by our fellow public radio station in Philadelphia. WHYY announces that Basketball Hall of Famer, four-time Olympic gold medalist, and coach of the 2022 National Championship-winning South Carolina Gamecocks Dawn Staley will be its 2022 Lifelong Learning Award recipient. 
The highlight of this event will be the opportunity to experience a live interview of Coach Staley by Terry Gross, host and co-executive producer of Fresh Air with Terry Gross, before the interview is broadcast on Fresh Air.
The WHYY Lifelong Learning Award recognizes an honoree who has demonstrated a passion for lifelong learning for themselves and for all those they can inspire. Previous recipients include President Joseph R. Biden, Dr. Anthony Fauci, Dr. Henry Louis Gates Jr., Gwen Ifill, Judy Woodruff and more.
To register, click "LEARN MORE" below.
Learn More
« All Events