TiffanyJ : Solbird Sessions Live! An Album Recording Concert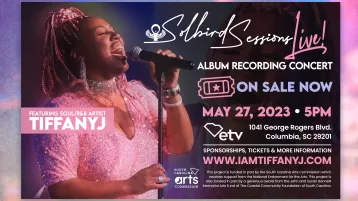 Solbird Entertainment presents Solbird Sessions Live! The Live Album Recording featuring Soul Artist TiffanyJ. She's performing tunes for her third album to be released in the Fall of 2023.
Music will include both previously released and new songs by TiffanyJ.
Choosing to participate as an audience member means you grant Solbird Entertainment and TiffanyJ permission to use your image/likeness in the audio/visual content recorded and produced on this evening.
Advanced Tickets now available. VIP Tickets get access to a Pre-Show Reception Meet & Greet (4pm) with the artist TiffanyJ.
Light bites will be served (VIP Only).
Doors open at 4:30pm | Show/Recording starts at 5pm
This project is funded in part by the South Carolina Arts Commission which receives support from the National Endowment for the Arts. This project is also funded in part by a generous award from the John and Susan Bennett Memorial Arts Fund of The Coastal Community Foundation of South Carolina.
Learn More
« All Events