Television Panel Discussion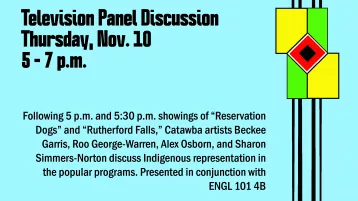 Native American Studies Center
Following 5 p.m. and 5:30 p.m. showings of "Reservation Dogs" and "Rutherford Falls," Catawba artists Beckee Garris, Roo George-Warren, Alex Osborn, and Sharon Simmers-Norton discuss Indigenous representation in the popular programs.
Presented in conjunction with ENGL 101 4B.
Program clips are presented in-person only.
The discussion is presented in person and via Zoom.
To attend the lecture in person, please call (803) 313-7172 or email usclnasp@mailbox.sc.edu to reserve your spot.
To attend via Zoom, register via this link: https://bit.ly/3EkTNJR 
Learn More
« All Events