Silent Disco: Halloween Outdoors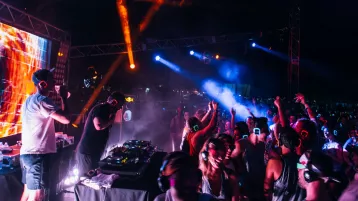 Ever been to a silent disco? Now is your chance to see what everyone is talking about! It's basically having the BEST time dancing in silence. We kid you not! There will be DJs providing lots of tunes, but all the sound comes through headphones (that's the key to the party!). Don your favorite costume, and come dance the night away in the McKibben Street Courtyard.  Beer & Wine vendors, as well as food trucks, will be on site.
Over the past decade, the New Wave Sound Company Silent Disco experience has taken the country by storm. Led by the industry's most trusted experts, we've worked with everyone from large festivals, universities, and corporate functions to private performances, exclusive parties, intimate weddings, and more. A silent disco is an action where individuals dance to music paid attention to remote earphones. Instead of utilizing a conventional speaker framework, music is communicated by means of a transmitter with the transmission being gotten by remote earphones worn by the members. Those without the earphones hear no music, giving the impact of a room loaded with individuals moving without music.
Tickets:
Early Purchase price: $10.00
Purchase at Door price: $20.00
Learn More
« All Events