SC Public Radio 50th Anniversary Open House Event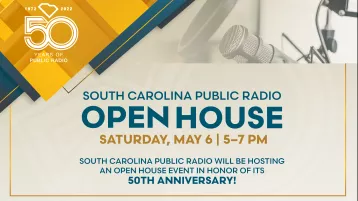 South Carolina ETV and Public Radio
1041 George Rogers Blvd.
Columbia, SC 29201
SC Public Radio will be hosting an open house event in honor of its 50th anniversary on Saturday, May 6 from 5 – 7 p.m. at the SC Public Radio studio in Columbia, SC. The public open house will be followed by a live taping of the SC Lede podcast at 7 p.m.
We invite you to come see where the magic behind the microphone happens and meet some of SC Public Radio's on-air talent: Walter Edgar, Rudy Mancke, Bobbi Connor, Osei Chandler, Mike Switzer, Mark Rapp, Bradley Fuller, Gavin Jackson, and the SC Public Radio news team! You may even catch a special musical performance or two.
Stick around after the Open House and join South Carolina Lede host Gavin Jackson for a live taping of the popular podcast! Gavin will be joined by Maayan Schechter, politics editor at The State newspaper, and Statehouse reporter Jeffrey Collins with the Associated Press for an informative discussion looking at the top issues from this year's legislative session.
We'll have appetizers available throughout the Open House with drinks available for purchase continuing through the SC Lede taping.
Learn More
« All Events