Sanctified by Javon Johnson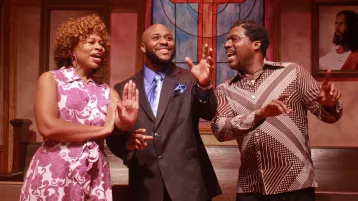 Sanctified is a lively, entertaining musical, kept afloat by the strength of playwright Javon Johnson's well-crafted characters, a great cast of amazing singers, updated arrangements of traditional church songs, and some nicely done original tunes by composer Rollo A. Dilworth and musical director Raymond D. Reeder.  Sanctified is a musical comedy that pokes fun at the comical characters and peculiar personalities all choir members must sometimes endure in trying to sing praises to the Lord.  It will have you roaring with laughter. You might recognize Javon from BET's "The Oval," where he plays Richard Hallsen.
Note: Sanctified is a collaboration with Newberry College for Dufford Diversity Week and underwritten by Dr. Bill Dufford
*A 1-hour abbreviated educational performance on Tuesday, October 18 at 11:00 AM. Call the Box Office for tickets.*
From writing to working before and behind the camera, Javon Johnson is a boundless imaginative instrument. Javon Johnson is a local of Anderson, South Carolina. He is an individual from The Dramatists Guild, Screen Actors Guild, Kuntu Repertory Theater, and Kuntu Writer's Workshop in Pittsburgh, Pennsylvania. He accepted his Bachelor of Arts from South Carolina State University and is a Master of Fine Arts competitor at the University of Pittsburgh. His work is the encapsulation of true craftsmanship. With an immense group of creative work as an entertainer, chief, and maker that traverses the screen, stage, and content, Javon Johnson brags an expansive range of unrivaled abilities.
Tickets: 
Standard price: $10.00
Learn More
« All Events