Operatizers! Presented by the Peach State Opera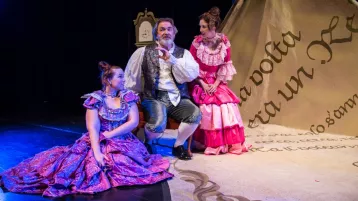 Peach State Opera presents Operatizers: an evening of arias, duets, and ensembles from some of Opera's most beloved moments, which is sure to be a crowd-pleaser featuring the fabulous singers from this regional company.
Peach State Opera began in 2009 as the brainchild of Founding Artistic Director Evelyn Hughes. As a collegiate vocal music professor and opera director, Evelyn recognized two perennial needs for the operatic art form: that audiences outside of major urban areas needed access to engaging live performances, and that emerging operatic professionals needed opportunities to perform new roles. As she approached the end of her twenty-year teaching career, Evelyn began to consider how she might contribute to the art form that had so enriched her professional life. Aspects of this touring production are made possible by support from the Opera Guild for Atlanta. This production is also supported in part by the Georgia Council for the Arts through appropriations from the Georgia General Assembly.  GCA is a Partner Agency of the National Endowment for the Arts.
Tickets:
Standard price: $25.00
Student price: $10.00
Learn More
« All Events