The Nutcracker Ballet: Presented by Dance Alive National Ballet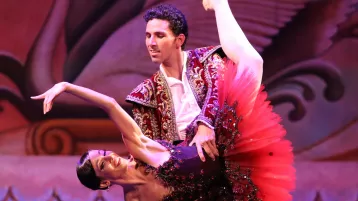 Become entranced by the Sugar Plum Fairy, her dazzling court, the swirling snowflakes, and cheer for the toy soldiers and their leader, The Nutcracker Prince. This holiday classic ballet is the perfect treat for the whole family! For people of all ages.
A 1-hour abbreviated educational performance on Monday, December 5 at 11:00 AM. Call the Box Office for tickets.
This famous holiday ballet premiered in St. Petersburg, Russia in 1892 and surprisingly was not a success. In contrast, during the 1960s, U.S. ballet companies discovered this classic and were met with glowing accolades for their performances of this ballet. Set in the late 1800s, a young girl's godfather is a toymaker whose toys magically come alive at midnight. Clara is awake and becomes caught in a battle between the Sugar Plum Fairy's soldiers and the Rat King's soldiers. Clara then ventures through a magical realm to reach the Sugar Plum Fairy escorted by The Nutcracker prince.
"The Nutcracker" production presented by Dance Alive, features beautifully choreographed dancing, impressive sets, and spectacular costumes. This family classic Christmas has become a Newberry holiday tradition.
Tickets:
Tier 1 Standard price: $50.00
Student price: $25.00
Tier 2 Standard price: $40.00
Student price: $20.00
Tier 3 Standard price: $30.00
Student price: $15.00
Learn More
« All Events