Low Country Harley-Davidson to Host Girl Scouts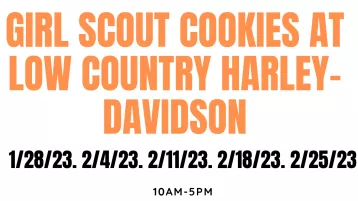 Low Country Harley-Davidson
Low Country Harley-Davidson will host a local Girl Scout Troop every Saturday in February.
An array of cookies will be available for purchase on
2/4/23
2/11/23
2/18/23
2/25/23
The Girl Scouts are expected to be available at the Low Country Harley-Davidson dealership from 10AM to 5PM which is located at 4707 Dorchester Rd. N. Charleston, SC 29405. 
This program helps girls learn skills they need to become successful adults who will contribute to their communities and strengthen the U.S. workforce. Low Country Harley-Davidson is proud to partner with the local Girl Scout Troop whose mission is to empower local girls to help improve their communities.  
« All Events