It's A Wonderful Life Radio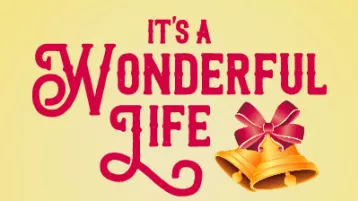 The story of idealistic George Bailey unfolds as he considers ending his life one fateful Christmas Eve. This beloved American holiday classic comes to captivating life as a live 1940s radio broadcast with every memorable character, wacky sound effects, and the heartwarming conclusion of the iconic film recreated live before your ears—and eyes!
This heartwarming classic is a show within a show. It's December 24, 1946, in Studio A at WBFR Radio, and a cast of six actors is preparing to present "It's a Wonderful Life" live to the listening audience. With the help of only a sound-effects artist, the ensemble re-enacts the story of George Bailey, a young man whose dreams of traveling the world are thwarted by his sense of responsibility to the family business. Down on his luck, Bailey, compassionate yet disheartened, is at the end of his rope. He questions his purpose in life and considers ending it all. Just then, an angel arrives to show Bailey how the lives of those he loves would be affected if he were not around. The story's message is profound and remains relevant for today's audiences.  With humor and humanity, George Bailey's tale of love, loss, and redemption mixes an exuberant cast and a wealth of seasonal songs into a radio day hit come to life! A heaven-sent gift for the entire family.
Over the years, audiences from Chicago to Miami have come to know and love ITP's annual performance of "Live From WVL Radio Theatre: It's A Wonderful Life". This fresh new adaptation of the film is set in the fictional studio of WVL Radio Theatre, which is struggling to stay on the air one snowy winter's night. The professional voice actors are unable to get to the studio, but the show must go on—and so a small but intrepid band of employees manages to create the story's dozens of characters and scenes using just their voices and some everyday household items for sound effects.
Tickets: $45
Learn More
« All Events