Halloween Bar Crawl - Columbia - 6th Annual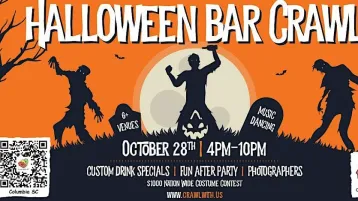 Get Your Tickets Now
Click GOING On The Facebook Event So You Don't Miss Updates.
https://www.facebook.com/events/888988555436191/

What You Get:
$1,000 Grand Prize Costume Contest Entry*
1-2 Drinks Or Shots Included With Ticket!
Crawl With US Stadium Cup And Bottle Opener Lanyard! (First 400 Check
Ins)
Exclusive Drink Specials
Food Specials At Partner Venues!
Waived Cover At All Venues ($5-$15 at Some Venues Without Ticket)
Professional Photographers!
Awesome After Party!
Custom Halloween Badge With Vouchers
Vouchers
Vouchers Are Only Valid At The Venues Posted Below!
GREEN VOUCHER = TBA
YELLOW VOUCHER = TBA
RED VOUCHER = TBA
Check-in Time 4 p.m. - 6 p.m.
 Liberty Tap Room Columbia
 
Crawl Locations 4 p.m. - 10 p.m. 
 
SPECIALS WILL BE UPDATED TWO WEEKS BEFORE THE CRAWL!
Hickory Tavern
Liberty Tap Room Columbia
Old Chicago
Pearlz Oyster Bar
Republic Biergarten
Social Bar and Lounge
Vista Union
 
After Party 10 p.m. - 12 a.m. 
 Pearlz Oyster Bar 
 
Free Tickets
Earn 2 Free Tickets by inviting your Facebook friends to the event.
Message us for details: https://www.messenger.com/t/CrawlWithUs

ATTENDEES MUST BE 21+ 
Due to the nature of our events, all attendees must be 21+ with a valid
government issued ID.
 
DON'T DRINK AND DRIVE
We Highly Suggest Using Uber or Lyft To And From The Bar Crawl!
 
FREQUENTLY ASKED QUESTIONS 
https://www.crawlwith.us/faq
 
100% CANCELLATION REFUND GUARANTEE:
In the event of cancellation, for any reason, all tickets will be
refunded in full. No vouchers, no credits, just your money back in your bank.
Guaranteed.
Learn More
« All Events