Exploring Watercolor - The Basics with Dale Cochran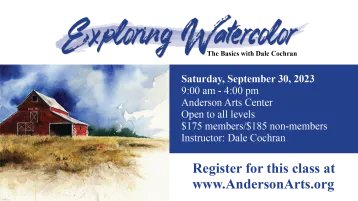 This workshop includes discussions about supplies and techniques for painting with watercolors. There will be additional discussions about composition, values, and edges that will improve your approach to painting.
Dale's one-on-one instruction meets you where you are in your watercolor exploration. Class discussion about problems and discoveries encountered as each person works on their painting is encouraged.
Saturday, September 30, 2023 9:00 am – 4:00pm at the Anderson Arts Center
Open to all levels
$175 members/$185 non-members
Visit our website for more information: www.AndersonArts.org
Learn More
« All Events