Exclusive Society Members Tour: America's First Museum, Making the Cut with Curator of Historic Textiles Virginia Theerman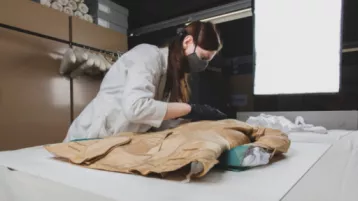 The Charleston Museum has over 2.4 million objects in its collection, with only 6,000 on exhibit at the Museum and its historic houses.  In creating the special, commemorative exhibit, America's First Museum: 250 Years of Collecting, Preserving, and Educating, curators were tasked with narrowing the Museum's vast collection, spanning nearly 4.6 billion years of history, into a yearlong two-part exhibit. Inevitably, not every piece from the collection made it into this special exhibit.  In a returning series exclusively for Society Level Members of the Charleston Museum, we invite you to join us for an evening with Curator of Historic Textiles Virginia Theerman as she unveils which objects from the historic textiles collection almost made the cut. 
Theerman will discuss the process of selecting items for an exhibit and provide an up-close look at collection pieces including items owned by Laura Bragg, 18th century textiles, and accessories from the historic fashion collection.
Beverages and light hors d'oeuvres will be available.  Registration is required. 
This program is free of charge and exclusive for current Museum Members at the following Membership Levels:
Milby Burton Society
Manigault Society
1773 Society
Not a Member, yet? Join (or upgrade) your Membership, today! Register online or call 843.722.2996 ext. 235 https://www.charlestonmuseum.org/support-us/membership/
Learn More
« All Events