Ensemble 4.1 - Harry Jacobs Chamber Music Society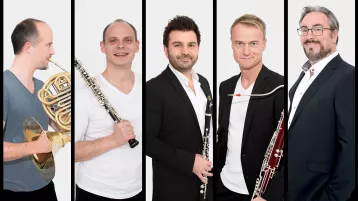 Augusta University Maxwell Theatre
The only "Piano Windtet" of its kind: Ensemble 4.1! FOUR wind soloists from top German Orchestras and ONE unmistakable pianist Thomas Hoppe devote themselves to this still undiscovered wonderful musical genre. The communicative powers through its music and the intoxicating atmosphere this group creates on stage has repeatedly been praised by critics and has become a hallmark of Ensemble 4.1.
Tickets: (plus tax) Season Membership:
$125 General public: $40 AU alumni: $32 Seniors (60+): $32 Military: $32 Children and students: $5
AU/EGSC student, faculty, and staff are admitted FREE with valid JagCard.
Learn More
« All Events