The Creative Culture Art Expo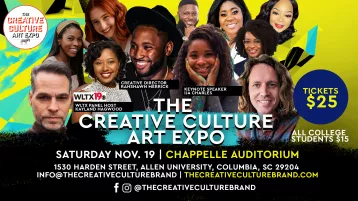 Chappelle Auditorium at Allen Univesity
The Creative Culture Brand will host the 2nd annual Creative Culture Art Expo on Saturday, November 19, 2022 at the Chappelle Auditorium of Allen University.
The expo will feature a panel of industry experts, keynote speaker, and live streamed, live audience mass fashion shoot as an opportunity for photographers to build their portfolios of work. 
A dynamic group of creatives will lead a candid panel discussion about their experiences and pathways. The speakers will challenge the thinking of artists and push them to their potential.
Speakers include: 
• Jacquard Daniels, Professional Hair Stylist, Owner, The Experience Salon and Spa
• Kayland Hagwood, WLTX Television On-Air Personality (Moderator)
• Ashley Marie, Fashion Stylist & Influencer, Prissy with Pearls
• Robert Matheson, Art Educator, Newberry Made
• Michael McGuirt, Art Gallery Owner, Heritage Antique Mall and Cafe
• Sarah Pullen, Fashion & Runway Model
• Nyiesha Muhammad, Professional Makeup Artist, Make Up By Nyiesha
• Tiana Scarlette, Allen University
• Bee Turner, Professional Photographer Ija Charles, renowned muralist and self-taught artist, will serve as the keynote speaker.
Learn More
« All Events