Comedy Night at Old Mill Brewpub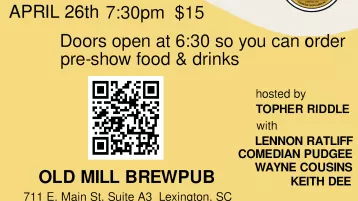 Some of the very best comedians come from right here in South Carolina and we've put together this showcase to prove it. If you've been to local comedy shows before, then you know how much fun you'll have. If you haven't checked us out yet, this is a great opportunity to enjoy some laughs and the delicious food and drinks that you can find at Old Mill Brewpub.
Doors open at 6:30pm so you can get there and order pre-show food and drinks. You don't have to purchase beer, but they have it there if you want it. The show starts at 7:30pm. Only $15 to see five of the funniest local comedians. This month's featured comedians are Lennon Ratliff, Wayne Cousins, Keith Dee, and Comedian Pudgee.
Learn More
« All Events