Come Fly With Us ... to The North Pole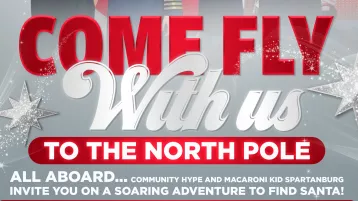 Macaroni Kid Spartanburg has once again teamed up with Community HYPE, LLC to bring you another fantastic event!
On November 26, 2022, from 10am - 2pm, we invite our community youth to come on out to Airport Park where they can experience our very own outdoor airport!
The kids will travel to baggage claim where they will pick up their goodies, build their own airplanes, and then test their aviation skills in landing that plane, show us their skills in the "Pack it Up" Challenge and so much more. 
Emit's Farm will be out with their petting zoo from 11am-12:30pm as well. 
We have a TON of local small businesses that would LOVE your support on this Small Business Saturday. It will be the best place to pick up some last-minute Christmas gifts for family and friends. 
Oh, almost forgot, the best dressed pilot/steward(ess) contest is SURE to be a crowd pleaser!  So dig down deep in those dress up bins, pull out the kiddos finest airport threads, and meet us over at Airport Park!
https://www.facebook.com/MacKIDSpartanburg
Learn More
« All Events