City of Tega Cay presents Catawba Fest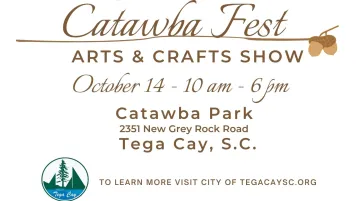 The City of Tega Cay presents Catawba Fest on Saturday, October 14 in Catawba Park from 10 am until 6 pm. 
The City has partnered with our Hall of Fame Community Sponsors: Carmen Miller Group, Dick's Sporting Goods and Piedmont Medical Center to provide a day full of fun for the entire family.
The day will feature activities including an arts and crafts show, eating contest, fall plant potting education, a free kid's zone and a cool selection of the region's top bands that are sure to bring you to your feet!
Holiday shopping begins at 10 a.m. with artisans and crafters selling handmade jewelry, wood art, unique gifts and home décor. While strolling through the park, visit the Tega Cay Garden Club to learn more about fall gardening where you can make and take home a fall plant.  
Registration begins at noon for the 2 p.m. Smokin' Ed's Eating Contest featuring a pumpkin pie eating contest, and a Cupcake Challenge for all ages and, for adults only, Pucker Butt Pepper Company's hottest Chip standoff!  Kids are sure to fall in fun in the Kid's Zone with featured inflatables, a rock-climbing wall and a make and take-home pumpkin sponsored by the Tega Cay Lion's Club.  This year's food truck selection will not disappoint with a great variety of delicious treats including BBQ, wraps, hamburgers, sandwiches and desserts.  The day wraps up with Ross Coppley Band taking the stage at 3 pm and rocking out until 6 pm.
We look forward to celebrating the arrival of Autumn in Catawba Park in beautiful Tega Cay, South Carolina with you! 
Learn More
« All Events