Christmas Oratorio - Johann Sebastian Bach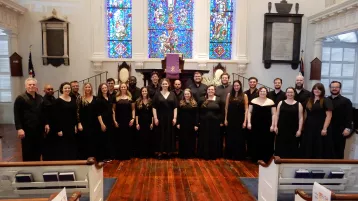 Bethany United Methodist Church
The Taylor Festival Choir, led by Rob Taylor, will perform the complete Christmas Oratorio by J.S. Bach on Nov. 13, 4pm, at Bethany United Methodist Church in Summerville.
This will be the first complete performance of Bach's Christmas masterpiece ever presented in the Charleston area!
Called by Fanfare magazine "one of the best choirs in the US", the 24-voice Taylor Festival Choir will be joined by an orchestra of 25 elite instrumentalists, most of whom stem from the Charleston Symphony.
Tickets can be purchased at www.taylormusicgroup.org 
Learn More
« All Events