Cheers to 50 Years! The Ultimate Cocktail Party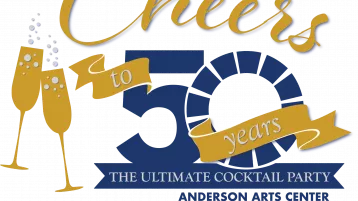 The Anderson Arts Center has celebrated our 50th birthday all year long! Help us close out this spectacular year by saying "Cheers to 50 Years," at the Ultimate Cocktail Party on Friday, December 9. 
The evening will begin with an opening reception for the dynamic duo exhibit of Kathy Moore and Johnny Nutt and include an evening of creative cocktails and live music by The Mighty Kicks. 
Tickets: $40 if purchased by November 30th, and $50 starting December 1st.
Ticket included entry to Activating Artistry opening reception and entry to the Ultimate Cocktail Party which includes beverages and food.
Purchase tickets our website: www.AndersonArts.org
Learn More
« All Events