Charleston Literary Festival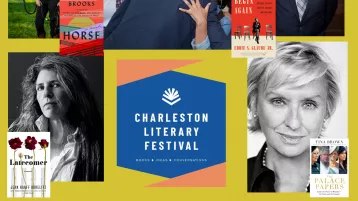 Historic Venues around Charleston, SC
The Charleston Literary Festival is now an independent 501(c)3 nonprofit organization with a distinct transatlantic focus. The Festival takes place each November in Charleston, South Carolina, an atmospheric and historic town, replete with antebellum architecture, lush courtyard gardens, modern galleries, and James Beard Award-winning restaurants.  The Charleston Literary Festival's distinctive international ethos offers attendees the opportunity to engage with renowned authors in unique settings, and to contribute to conversations that revolve around outstanding books and illuminating ideas. The Festival has a boutique and bespoke identity. It is carefully curated on the basis of literary and artistic excellence, originality, and critical acclaim. Since its first appearance in 2017, the Festival has established a reputation for presenting exceptional speakers from diverse backgrounds in intimate venues. Pulitzer, Booker and Nobel prize-winners take the stage for unscripted conversations, then meet and sign books for fans immediately after. Speakers and attendees alike return year after year to experience the Festival's unrivaled hospitality and social events.   The Festival is committed to continuing to widen access to its program. It believes in the transformative power of great literature, art, and in the civil exchange of humanitarian ideas*, *as positive forces for change.  The enthusiasm of our audience, whether in-person or online, is integral to our story. We look forward to welcoming you to engage with this year's cutting-edge speakers.
A few of the over 30+ world-class authors that will be in-person this year at Charleston Literary Festival, 2022: * */Sandy Hook/* [1], from /The New York Times/ writer *Elizabeth Williamson,* is a landmark investigation of the aftermath of a school shooting, the work of Sandy Hook parents who fought to defend themselves, and *the truth of their children's fate *against the *frenzied distortions of online deniers* and conspiracy theorists. * /*The Palace Papers*/ [2], *Tina Brown*, award-winning writer and editor of /Tatler, Vanity Fair/, and /The New Yorker/, picks up where /The Diana Chronicles/ left off, *revealing how the royal family reinvented itself* after the trau­matic years when Diana's blazing celebrity *ripped through the House of Windsor* like a comet. * */Begin Again: James Baldwin's America and its Urgent Lessons for Today,/* [3] *Eddie S Glaude Jr.*, one of the *nation's most prominent scholars*, is a passionate educator, author, political commentator, and public intellectual who examines the *complex dynamics of the American experience*. Named one of the best books of the year by /Time, The Washington Post/, and the /Chicago Tribune/, /Begin Again/ is *where Glaude finds hope and guidance in James Baldwin *as he mixes biography with history, memoir, and *poignant analysis of our current moment *to reveal the painful cycle of Black resistance and white retrenchment. * By Pulitzer Prize-winning author *Geraldine Brooks, **/HORSE/* [4] is based on the true story of *record-breaking 19th-century thoroughbred Lexington, who became America's greatest stud sire.* It is a novel of art and science, love and obsession, the bond between people and animals, and *an unfinished reckoning with racial injustice* throughout different American history periods*.* * */The Latecomer/*, [5]* Jean Hanff Korelitz*, /The New York Times/ bestselling author of /The Plot/, touches on grief and guilt, *generational trauma, privilege and race*, traditions and religion, and family dynamics. It is a *profound and witty family story *from an accomplished author known for the depth of her character studies, expertly woven storylines, and plot twists. 
------------------------------------------------------------------------------ "The interactive conversations between the authors and the audience add a wonderful zest which is why we support it. With extraordinary literary and social programming, the Festival remains the highlight of the Fall calendar." Donor, Charleston Literary Festival ------------------------------------------------------------------------------
*Charleston Literary Festival Details:* * *Programming*: The Festival, running November 4 -13, 2022, will offer most of its events live with a small selection of online sessions. Programming revolves around intimate conversations between authors and interlocutors that include an opportunity for audience members to interact.   * *Ticket Sales*: Details for tickets and the complete programming list and schedule will be released in early September 2022  * *Announcements:* Sign up for the newsletter [6] for up-to-date media alerts and participant lists.  * *Location*: Charleston, SC,  [7]is the home of the Festival, with live events presented in notable venues in the historic downtown area. All events will be held within easy walking distance of local amenities such as boutique hotels, great shopping, and plentiful restaurants.  * *Plan Your Trip* [8]: Charleston boasts a thriving art and music scene, award-winning food, pristine beaches, and sensational outdoor activities among its over 2500 historical buildings. * *Support the Festival* [9]: Festival donors make it possible to broaden event access to students and others through free and reduced-price tickets while also receiving exclusive access to events and tickets.   
[1] https://www.penguinrandomhouse.com/books/624175/sandy-hook-by-elizabeth-williamson/
[2] https://www.penguinrandomhouse.com/books/624639/the-palace-papers-by-tina-brown/
[3] https://www.penguinrandomhouse.com/books/575725/begin-again-by-eddie-s-glaude-jr/
[4] https://www.penguinrandomhouse.com/books/535715/horse-by-geraldine-brooks/
[5] https://us.macmillan.com/books/9781250790774/thelatecomer
[6] https://www.charlestonliteraryfestival.com/
[7] https://www.charlestoncvb.com/
[8] https://www.charlestoncvb.com/plan-your-trip/
[9] https://www.charlestonliteraryfestival.com/support
Learn More
« All Events