Carolina Brass Holiday Concert, In Memory of F. Cantine Jones - Harry Jacobs Chamber Music Society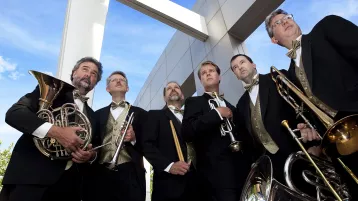 Augusta University Maxwell Theatre
As a national touring ensemble and Summit Recording Artist, Carolina Brass has quickly become the premiere brass ensemble of the southeast, raising the bar for music performance and education in America.
From the elegance and grace of beautiful classical music to the hard driving sound of a big band, Carolina Brass will sweep you off your feet and leave a smile on your face. Their winning combination of virtuosity and humor brings a fresh approach to great music of all types, engaging audiences in a vibrant and energetic musical experience.
Tickets: (plus tax)
Season Membership: $125 General public: $40 AU alumni: $32 Seniors (60+): $32 Military: $32 Children and students: $5
AU/EGSC student, faculty, and staff are admitted FREE with valid JagCard.
Learn More
« All Events