Black Jacket Symphony: A Tribute to Led Zeppelin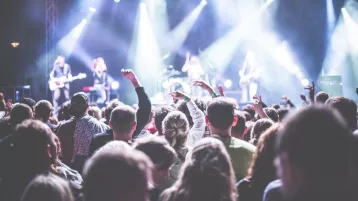 Remember putting on an album and listening from start to finish?  Relive that moment with a live concert experience unlike any other as The Black Jacket Symphony recreates a select classic album live in its entirety—note for note, sound for sound—plus a full set of greatest hits from the evening's artist.
Over the past ten years, the Black Jacket Symphony has performed over 35 classic rock albums, bringing an incredible night of entertainment to over a million music lovers across the US. It's a full night of rock and roll magic, plus a visual experience unlike any other. Fans across the country flock to their shows.
The Black Jacket Symphony announces a special performance to honor one of the greatest musicians of our time – Led Zeppelin. Black Jacket Symphony has recreated 38 classic albums, including The Beatles – Abbey Road, Sgt. Pepper's Lonely Hearts Club Band, and White Album; Eagles – Hotel California; Guns N Roses – Appetite For Destruction; Lynyrd Skynyrd – Second Helping; Michael Jackson – Thriller; Prince – Purple Rain; The Rolling Stones – Sticky Fingers, Let It Bleed, and more.
Tickets:
Tier 1 Standard price: $65.00
Tier 2 Standard price: $60.00
Tier 3 Standard price: $55.00
Learn More
« All Events