Black History Soul Meet & Eat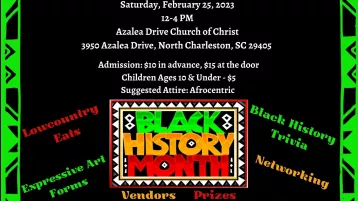 Azalea Drive Church of Christ
It's time for a Krystal Klear Komeback- black history style!
Come and enjoy an afternoon of Lowcountry food tastings, expressive art forms, networking, vendors, black history trivia, and prizes!  
Featured Artists:
Speak Freely Foundation - Poetry
Latasha Hollins of The Artist Table - Live Visual Art
Alphonso Brown of Gullah Tours - Gullah Storytelling
Wona Womalan West African Drum and Dance Ensemble - Rhythms
  Attire: Afrocentric  
Admission:
Adults - $10 in advance, $15 at the door
Children Ages 10 and Under - $5 (includes black history coloring activity book while supplies last)  
Tickets can be purchased on Eventbrite or at www.KrystalKlearProductions.com under upcoming projects. You can enter to win a black history basket during the event.
A portion of the proceeds will go to EC Youth's non-profit organization, L.E.E.L. (Learn Earn, Earn Learn) Program, which allows students to earn stipends and register to receive scholarships at EC Youth events.  It's the Ultimate KKP Experience black history style!
For more information or to be a vendor, contact Krystal Klear Productions at (843) 608-9416 or KrystalKlearProductions1@gmail.com.  http://www.KrystalKlearProductions.com/?fbclid=IwAR2GKPsH3wPiJ77Eil6mJQtkd0E7mF8DXULt_gDXWDfzx8SQI1PYW0j0Jt4
Learn More
« All Events