Appalachian Road Show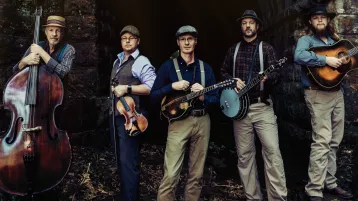 This acoustic ensemble brings new interpretations of traditional Americana, Bluegrass, and Folk songs. Don't miss their innovative original music too, all tied to the heart of the Appalachian regions of the United States.
Award-winning lead singer and banjoist Barry Abernathy, tenor singer and mandolinist Darrell Webb, Grammy® award-winning fiddler and producer Jim Van Cleve, legendary upright bassist Todd Phillips, and guitar phenom Zeb Snyder honor the music and storytelling of Appalachian tradition while bringing a modern vigor to the stage.
  Appalachian Road Show's latest album Tribulation was nominated for five International Bluegrass Music Awards. Their self-titled debut album produced powerful versions of gospel songs like "Long Black Train," ballads like "Anna Lee," and even reels like "Dance, Dance, Dance."
  These artists grew up singing in church and at the feet of grandparents who were musicians and preachers. They bring their music style of songs and stories from the mountains and hollers of North Carolina and Virginia to the coal mines of West Virginia and Kentucky into their performance at the Opera House this November.
Tickets:
Tier 1 Standard price: $50.00
Tier 2 Standard price: $45.00
Tier 3 Standard price: $40.00
Learn More
« All Events