Anderson Mall Carnival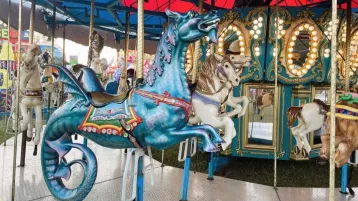 There's something for everyone at this family-friendly event, from exciting rides and games and favorite fair food to Victoria Circus thrill shows and Big Bee The Transforming Robot Car.   
Free event admission, parking and live entertainment.
Circus shows feature high-wire and aerial performances and the Globe of Death motorcycle thrill act.   Unlimited ride wristbands are $35 on site while supplies last or online before 5 pm Thurs., April 13 for $29 each, 2/$55 or 4/$99. 
 Visit Anderson Mall Carnival or ride ticket specials and coupon savings on rides and food. 
 Midway hours: 
5-10 pm Monday - Thursday
5-11 pm Friday
noon-11 pm Saturday
noon-10 pm Sunday
Parent/guardian supervision is required for ages 17 and younger.
Please check the website for event updates before attending.
More information: 866-666-3247 or Anderson Mall Carnival https://innovativeticketing.com/Events/Detail/?NEU3NjQ0MEQtMTA0Qi00OEYxLUFERUEtMTM0QUQwRkI1NThB
Learn More
« All Events