American Chamber Players - Harry Jacobs Chamber Music Society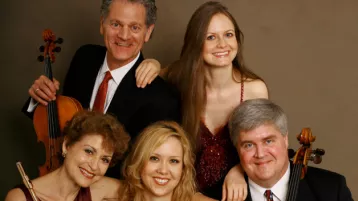 Augusta University Maxwell Theatre
Among today's most exciting and innovative chamber music ensembles, The American Chamber Players were formed in 1985 by Miles Hoffman from a core group of artists of The Library of Congress Summer Chamber Festival. The ensemble performs repertoire ranging from familiar masterpieces to neglected gems to newly commissioned American works, and its fascinating and delightful programs with varied instrumental combinations have been as enthusiastically praised as its extraordinary, dynamic performances.
Tickets: (plus tax)
Season Membership: $125 General public: $40 AU alumni: $32 Seniors (60+): $32 Military: $32 Children and students: $5
AU/EGSC student, faculty, and staff are admitted FREE with valid JagCard.
Learn More
« All Events