AAC Ranch - Summer Art Camp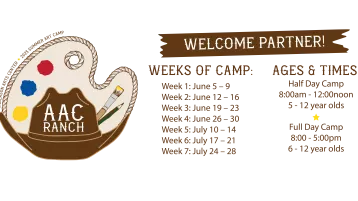 Saddle Up For Some Summer Fun At The AAC Ranch! Wrangle up the kids and book some time at the AAC Ranch! This summer art camp we will venture out to the wild west to get messy and creative with our own masterpieces inspired by life on a ranch: including livestock, working animals and wild animals, food ranchers eat and produce, tools, gear and clothes, music and dance, western art, rodeos, etc.
We will work on age-appropriate projects with all kinds of materials and in several mediums including: drawing, painting, clay, collage, printmaking, fibers 3-D non-clay sculpture and design. We will also have some guests cowpokes coming to us to help us experience some elements of life on a ranch. At the end of each week will have a little shindig for family and friends to amble over to the AAC ranch to see the work we made and enjoy some refreshments.
Registration is open online: www.AndersonArts.org
Learn More
« All Events