Educational Technology
The Educational Technology department serves as the Technical Point of Contact for support of IP Media Distribution systems in each school district in South Carolina. We provide support for standard coaxial distribution systems in K-12 schools – where they might still be in operation and we assist with the migration from those older technologies to the newer IP media distribution technologies.
We also provide consultation, design and support services for media center studios and integration of streamed media technologies into the classroom. These services include:
Morning News / Announcements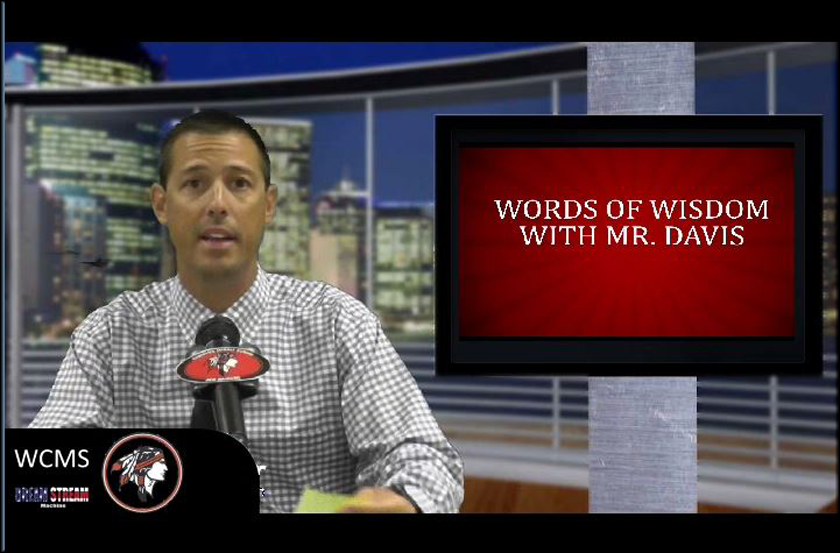 Morning News / Announcements are streamed to desktops and interactive white-board display technologies in the classroom.
ABOVE: This is a screen shot of Cowpens Middle school Morning News program – as it appears in the CORE MediaTM display. Using Green screen technologies and virtual studio technologies (that is not a TV behind Mr. Davis) students and educators are able to develop "story telling" skills using 21st century technologies – provided by and supported by Educational Technology Engineers.
Training to use the COREMedia portal and related technologies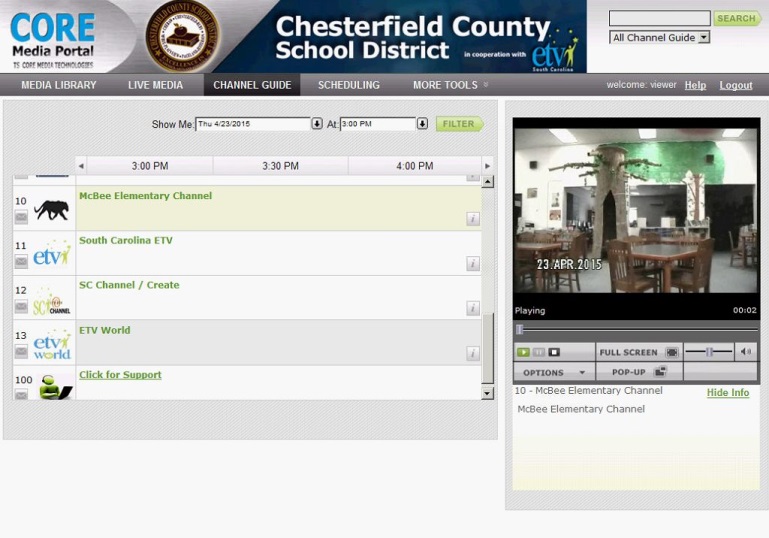 When CHESTERFELD COUNTY SCHOOLS hosted a reading event that included hand-puppets and a custom built set – the entire school could participate without ever leaving their desks by watching live through the media technologies provided and supported by ETV.
Other Services
DVD, VCR, Satellite and broadcast distribution to Interactive white-board technologies (large format displays) via streaming
Integration of media technologies to support classroom activities and other district-wide special event programs
Remote support for end-users in the schools
Provide consulting services for IP network issues in support of IP Media distribution
Integration of media technologies to provide and support DIGITAL SIGNAGE applications
Integration of Media server technologies to support FLIPPED CLASSROOM media assets
Integration of CORE Media technologies in support of internal training needs
Assist with the reconfiguration of state-wide constellation of DELC facilities* 
Customer Support
In order to streamline support requests and better serve you, we utilize a support ticket system. Every support request is assigned a unique ticket number which you can use to track the progress and responses online. For your reference we provide complete archives and history of all your support requests. A valid email address is required to submit a ticket.
Open a NEW Ticket Check Ticket Status
We also have a unique way to provide instant support to our viewer and educational communities.
The ETV SUPPORT tool provides an ETV technician with instant, remote access to your computer desktop - enabling us to demonstrate procedures, provide training and even repair your system or install software.
Click on the link below to launch the stand-alone tool.